Jurassic World: Dominion Dominates Fandom Wikis - The Loop
Play Sound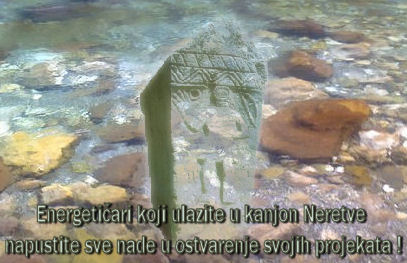 Foreword
The Neretva river got its name from Celts, they called the river "Nera Etwa" which means the "Flowing Divinity", "Divine River", and no doubt this truly is the Nile of Bosnia and Herzegovina and, indeed, all of South-East Europe - that's my river !
Today, foolish and corrupted Bosnian leaders and politicians of all colors and political affiliations are not satisfied with usage of the Neretva waters with 2/3 of the Neretva under an absolutely excessive utilization, so they call for more "sustainable" requisition of the Neretva head waters, the last untouched and unspoiled stretch of this unique river. They brazenly call it "national interest" while the nation echoing with public outcries for the preservation and statutory protection of the Neretva, its tributaries and surroundings.
Educating & informing
Devoted to disclosure, reporting and passing informations on ecological dangers, lobbies pressure on one side and efforts to save and protect the Neretva and its surroundings on other.
Section heading
At first I started this article/story on English Wikipedia (as user/editor "santasa99"), quickly gathering momentum with new entries text was rapidly grew, but soon it was much harder to maintain continuity and consistency of the story because of constant editing and changing by other editors often irrelevant and unnecessary. Soon all I was doing is fighting for my article without any new entries, not to mention my helplessness when some zealous editor ask for proof for copyrights on images. So, I finally grew tired of "edit wars" and decided to rewrite my article here, on my own terms. Here i
t is!